Annual Day Celebration of Aravind Eye Hospital, Tirunelveli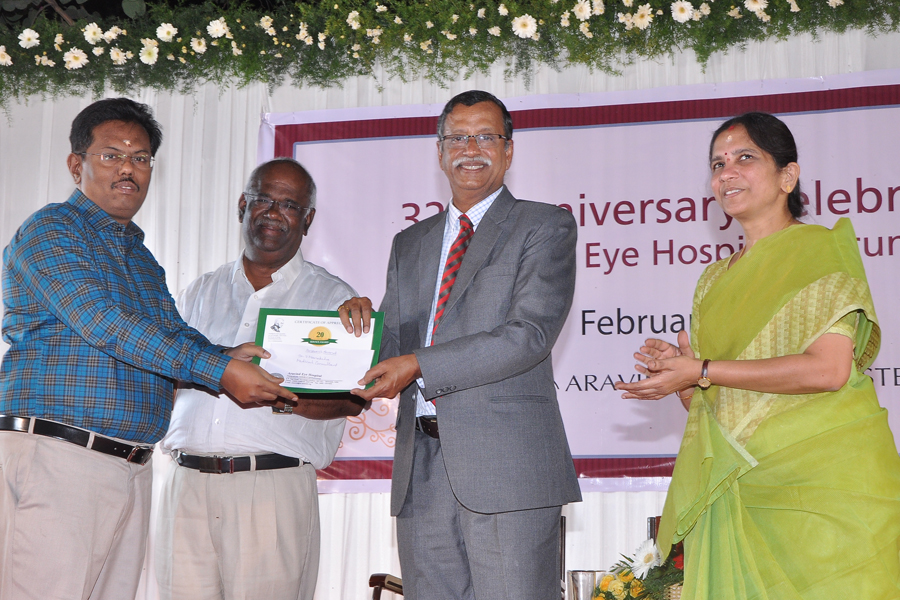 Aravind-Tirunelveli celebrated the completion of 32 years of service. Dr K Pitchumani, Vice Chancellor, Manonmaniam Sundaranar University was the chief guest. Doctors from various specialities in and around Tirunelveli, Rotary and Lions Club members, well wishers of Aravind attended the event.
The  function started with prayer song by Dr Priyanka Shyam and Dr Kriti, followed by Dr.R. Meenakshi, Chief Medical Officer welcoming the gathering.  Dr. Neelam Pawar,  Senior Medical Officer presented a report on the activities of the past year. Dr R Ramakrishnan, Advisor gave a very inspiring speech. Dr K Pitchumani,also gave an informative talk and congratulated the staff for their selfless service. Service awards and certificates were distributed to the staff members.
Following this, cultural programmes like Bharathanatiyam, Kathak and Kolattam were performed. Dr Priyanka Shyam and Mr Bremkumar sang a song. Mr Balakrishnan read a poem on Dr.V. Dr. Maneksha, Chief , Orbit Clinic proposed the vote of thanks.