Aravind's first overseas venture opened in Nigeria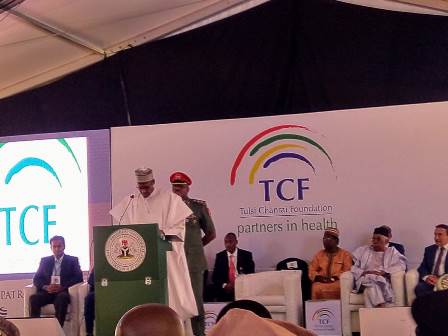 Aravind's first overseas joint venture was materialised in Abuja, Nigeria with the opening of Tulsi Chanrai Foundation Eye Hospital (TCFEH) on July 11, 2019. President of the Federal Republic of Nigeria, H.E. Muhammadu Buhari Eye-care opened the commissioned the facility.
Tulsi Chanrai Foundation (TCF) has been working in Nigeria for the past several decades in providing access to primary health care and safe drinking water and later, eye care. TCF sought Aravind's support to start a tertiary eye hospital and training institute in 2013. Aravind took up the initiative and several visits were made in the subsequent years to inspect the project site and also to recruit manpower. Training was provided to the 29 new recruits in batches at Aravind-Coimbatore. A team comprising  ophthalmologists, paramedics and managers was sent from Aravind to help with the actual setting up of systems and practices. Managed by Aravind, the TCFEH's mission is to provide high quality, high volume sustainable eye care and build local capacity to enhance the provision of eye care in West Africa.