Awards and Recognitions at TNOA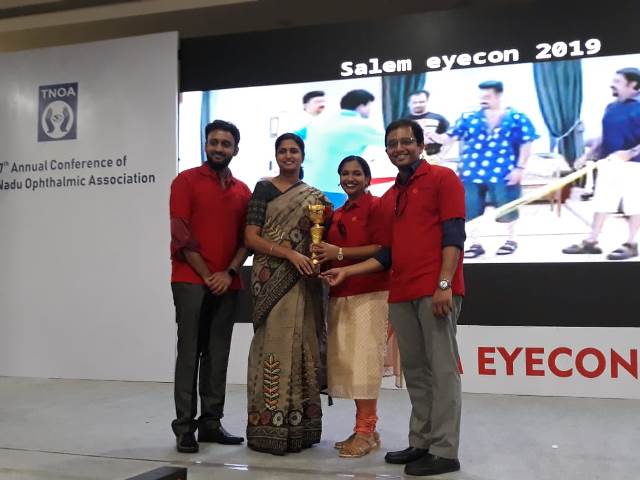 Recognitions
Dr. R. Ramakrishnan, Advisor, Aravind-Tirunelveli was elected as Vice President – TNOA.
Dr. N. Venkatesh Prajna, Director Academics – AECS was bestowed with the Dr. J. Agarwal Excellence in Teaching Award.
Dr. Kalpana Narendran, Senior Medical Officer, Aravind-Coimbatore was bestowd with Dr. S.S Badrinath SOA SN Alumni Medal.
Madurai Warriors team consisting Aravind-Madurai doctors –  Dr. Usha Kim, Dr. Preethika Gandhi, Dr. Aswin and Dr. Pranesh –  won the Ophthalmic Premier League.
Awards
Dr. S. Kavitha, Medical Consultant, Glaucoma Services, Aravind-Pondicherry – Best Paper in Glaucoma
Cornea consultants, Dr. N. Shivananda (Aravind-Pondicherry) and DR. R. Seema (Aravind-Chennai) – Best Paper in Cornea
Dr. M.G. Pavan Kumar, Glaucoma Consultant, Aravind-Pondicherry – Best Paper in Comprehensive Ophthalmology
Dr. Vedhanayaki, Uvea Consultant, Aravind-Madurai – Best Paper in Uvea session
Dr. Pranesh, Aravind-Madurai – Best presentation in One case One pearl Session.
Dr. Arun & Dr. Rishabh Desai, DNB Residents – First prize in the ET Selvam Quiz Competition