Dr. G. Venkataswamy Memorial Award and Oration Ceremony 2020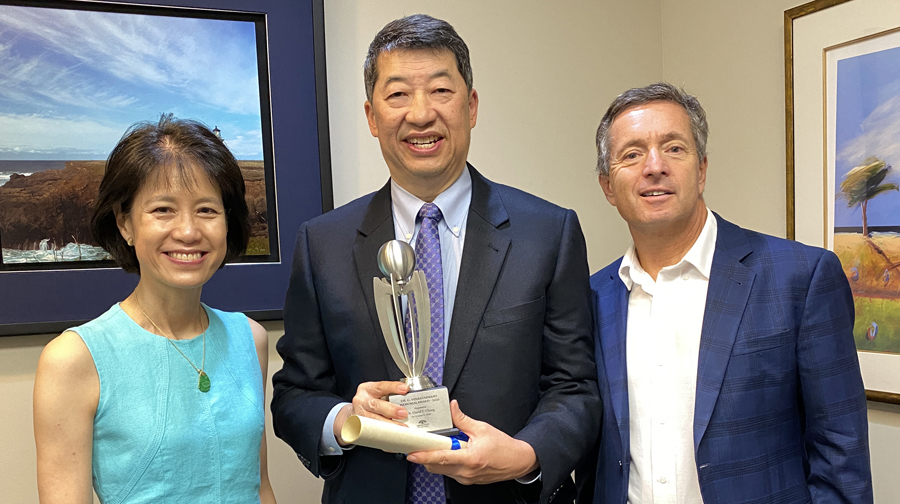 Dr. G. Venkataswamy Memorial Award has been instituted in memory of Dr. G. Venkataswamy, Founder, Aravind Eye Hospitals, who made enduring contributions to the world of ophthalmology. The award recognizes and honors individuals, who through their work have significantly contributed towards the goal of eliminating needless blindness in the community.
Aravind, this year honored Dr David F Chang, a world-renowned cataract surgeon and clinical professor at University of California, San Francisco. He has imparted fine surgical skills to ophthalmologists around the world. He has been very supportive of the humanitarian work in eye care in the developing world. Dr. Chang has been named in very biennial list of the TOP 100 most influential people in ophthalmology, as voted by the international readership of The Ophthalmologist. He has authored several text books which have helped the current generation of ophthalmologists to significantly refine their surgical techniques. A key opinion leader in ophthalmology, Dr. Chang rallied with regulatory authorities and ophthalmic societies to include flash sterilization to reduce waste and improve operating room efficiency based on Aravind's practices and outcomes. In appreciation of his contribution towards teaching, training and improving quality and outcomes of cataract care worldwide, Aravind Eye Care System chose him for the Dr. G Venkataswamy Memorial Award 2020.
The award ceremony and the subsequent oration by Dr. David Chang was conducted virtually and live streamed through Aravind's YouTube channel (https://youtu.be/4uje39O2N1Y). The award was presented by Mr G Srinivasan, President-GOVEL Trust and Dr P Namperumalsamy, Chairman Emeritus, Aravind Eye Care System in the presence of Dr R D Ravindran, Chairman of Aravind Eye Care System. Dr. Geoff Tabin, a mutual friend of Aravind and Dr. Chang, presented the trophy and citation on behalf of Aravind. Dr. Chang delivered the Dr. G. Venkataswamy Memorial Oration on the topic, Lessons learnt from the world's greatest team of cataract surgeons.