Examination and Quiz for MLOPs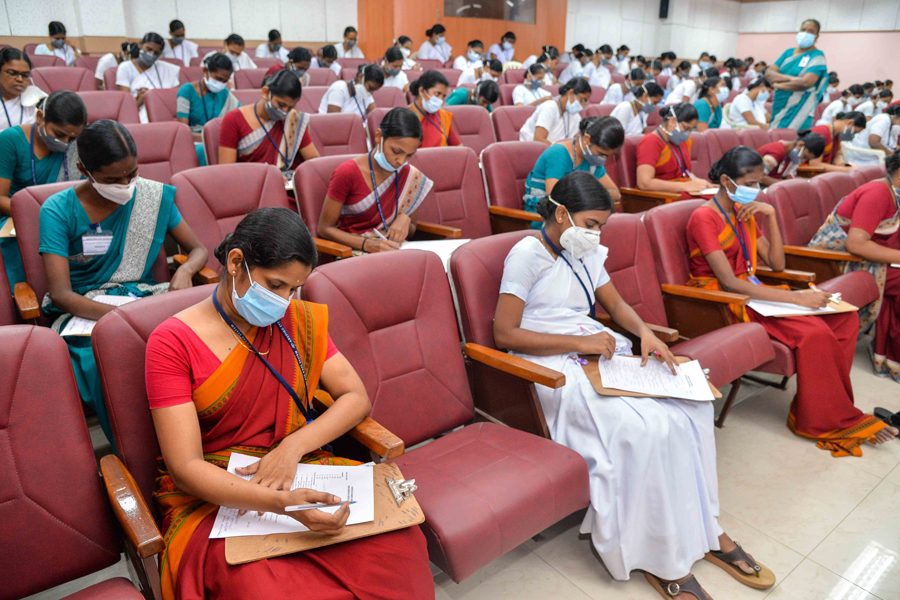 Aravind – Madurai, Friday, 26 November 2021
To evaluate MLOPs knowledge and to give them an opportunity to update themselves, an examination was conducted for all MLOP employees of Aravind-Madurai. MLOPs were divided into two batches and the examinations were held in different venues. A separate  question paper was prepared for the Housekeeping MLOPs.
A total of 415 employees took the examination and from this the best 30 performers were selected for the quiz competition. All 30 MLOPs were divided into 5 teams. There were 5 rounds  and a total of 50 questions which included questions related to clinical topics, NABH, Aravind centres, photo quiz and connections.
Team consisting of Sr.Devi (Counsellor), Sr.Anusuya devi (OP), Sr.Jegadeeswari (Refraction), Sr.Durga devi (Glaucoma OP), Sr.Tamilselvi (MRD), Sr.Muthukani (Housekeeper) was the winner.
Team consisting of Mr.Gopinath (Opticals), Sr.Pandiammal (OP), Sr.Sumathi (Retina counseling), Sr.Prabha (Refraction), Sr.Gayathri (Ward) and Sr.Shruthi (Housekeeping) was the runner up.
Winner and runner up were appreciated with prizes by Dr.Kim. MLOP clinical Managers team (Sr.Arumuga Selvi, Sr.Gomathi, Sr.Lakshmi, Sr.Pitchai Meena, Sr.Krishnaveni) organised the whole programme. They were in charge of question paper preparation, answer key preparation, venue arrangements for both examination and quiz, quiz powerpoint preparation, and collating results. documentation. Sr.Krishnaveni (Co-ordinator- Central HR), Sr.Begum (NS) & Sr.Maha Lakshmi (Warden) was a constant source of support.