Hospital Day Celebration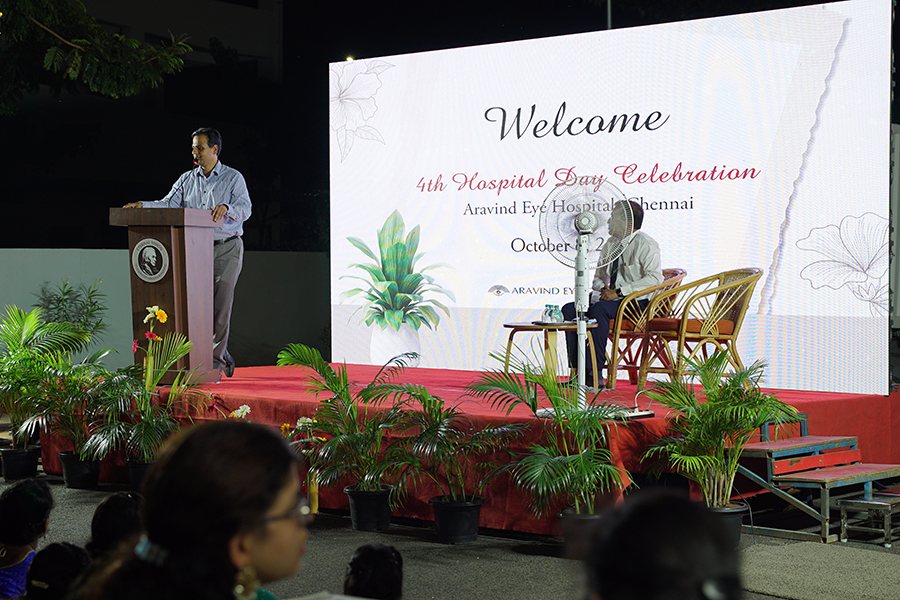 Aravind-Chennai, Friday, 08 October 2021
Aravind Eye Hospital, Chennai celebrated its 4th Hospital Day. The auspicious evening started under the twilight sky by offering a prayer to the Almighty God. Dr. Aravind, Chief Medical Officer, Aravind Chennai and Director Projects, AECS welcomed the gathering. In remembrance of G.S Sir, the team screened a video eulogy titled, The Invisible Player. Dr. Karthik Srinivasan, Medical Officer, Vitreo Retina Services, presented the Annual report for the very challenging year 2020-2021. The Chief guest for the evening, Prof. K.Balaji Singh, Head of General Surgery, Head of clinical services and Dean of students at the Sri Ramachandra Institute of Higher Education and Research,  addressed the gathering by his words of wisdom. Service Awards for completion of 5 years in service was given to Dr. B. Jayashree, Medical Consultant, Orbit and Oculoplasty services. Dr. Anand Rajendran, Head of the department of Vitreo retina services delivered the Vote of thanks.
The much-awaited cultural programme then began with great pomp and fervour. There were nine cultural items dedicated to the nine days and nine colours of the ongoing Navaratri festival, each item representing a particular attribute of the Goddess Durga. Prayer dance and a song rendition by the junior-most MLOP batch, two very inspiring acts by children, one from the staff quarters and the other from the crèche kids, that conveyed the need to reuse, reduce and recycle to save our environment entertained the audience.
There were two acts by the administrative staff – a dance-skit on womanhood and the other, a Krishna-Leela performance. Two more enthusiastic and energetic group dances were performed by the MLOPs and finally the programme culminated with a classical-folk dance medley by our doctors.