Mission Day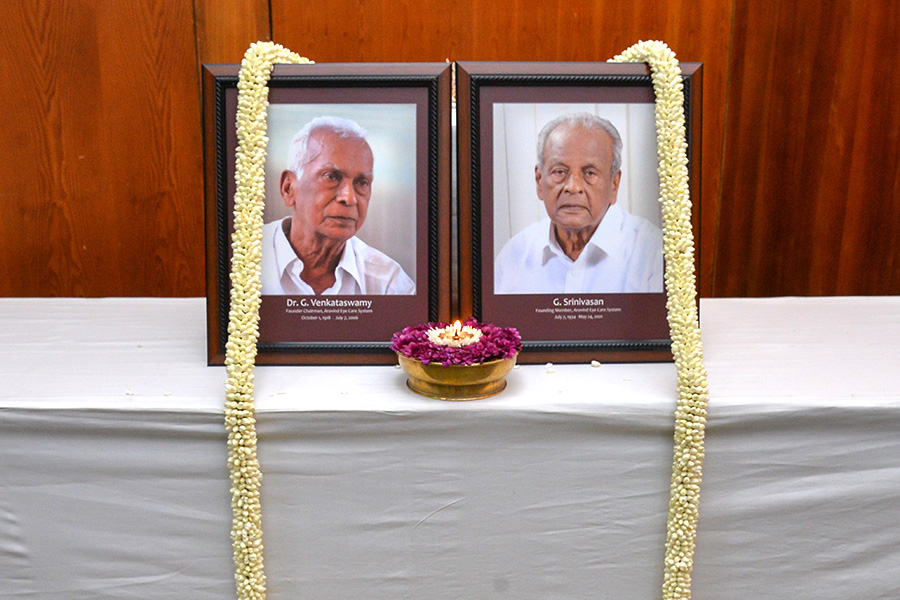 Aravind, 7th July
In the commemoration of the 17th Memorial Day of Dr. V, the Founder, and the birth anniversary of G. Srinivasan, Founding Member, Aravind Eye Care System (AECS), Mission Day was observed across all Aravind centres.
At Aravind-Madurai, there were bhajans and talks by senior leaders who shared their experience of working with Dr. V & G.S. Moreover, a video tribute to both visionaries was screened. All these events were telecasted to doctors, administrative staff, and senior MLOPs of all Aravind centres.
During the event at Aravind-Tirunelveli, a special prayer meeting including bhajans, and reading a few chapters from the Vizhivelvi Book was arranged in the morning for the newly recruited MLOPs. Dr. R. Ramakrishnan, V. Arumugam, Nursing Superintendent, and R. Lakshmi, Manager-HR, spoke about the significance of Mission Day and encouraged everyone to work towards achieving the founder's mission of eliminating needless blindness. A special flower arrangement in the meditation room added grace to the event.
Aurolab celebrated Mission Day in a pleasant manner. During the special occasion, Krishnakumar, Senior Regulatory Manager, Aurolab, shared his memories of being with the two great leaders, Dr. V and GS.