National Eye Donation Fortnight 2021: Aravind Eye Hospital, Pondicherry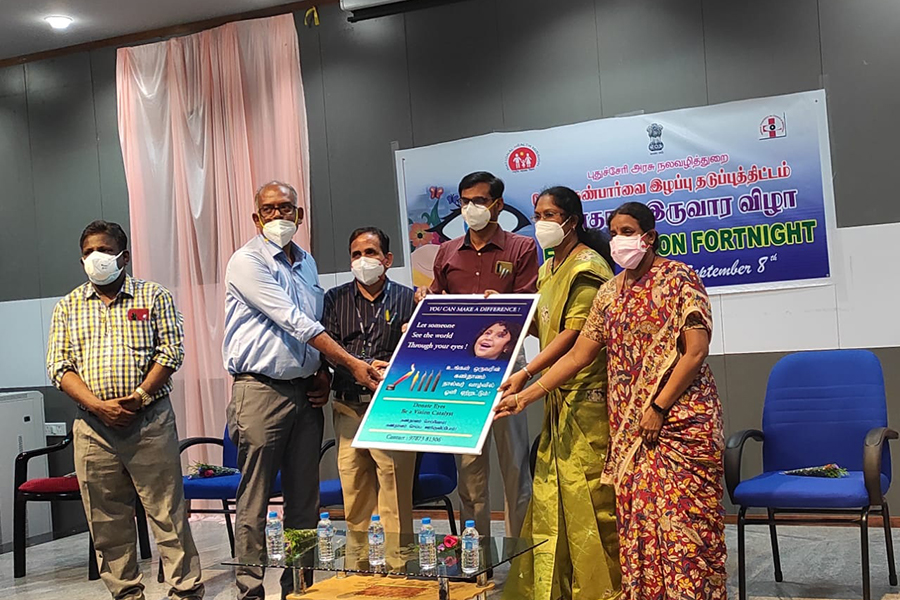 Monday, 13 September 2021
As part of observing National Eye Donation Fortnight, a pledge corner for people to pledge their eyes was set up in the outpatient waiting area.
Awareness messages were displayed in the pledge corner. Eye donation awareness messages were distributed to hospitals in the Hospital Corneal Retrieval Programme (HCRP) network –  IGMCRI, Puducherry, Villupuram Medical College, Cuddalore General Hospital and Karaikal General Hospital for display in critical care units and casualty areas.
Awareness talk on eye donation was given by Dr Josephine Christy, Cornea Consultant  to nearly 150 undergraduate students of IGMCRI. The function was presided over by the Dean, Medical superintendent and NPCB programme officer.
Dr Josephine Christy and Dr Aruna Jayaraj spoke at the awareness programme organised for the staff of Critical care, Casualty, Ward, Surgical and trauma ward at Villupuram Medical College. The Dean, Medical Superintendent and Resident Medical Officer (RMO) presided over the function. A new grief counsellor was appointed in Villupuram Medical College to facilitate eye donation.
Dr. Rajesh spoke on eye banking nd the functions of eye banks at the Eye Donation awareness CME organised for the NGOs including Lions and Rotary clubs by JIPMER, Karaikal.
A talk on Eye donation surgical aspects was given to nearly 100 undergraduate students of Arupadai Veedu Medical College Hospital by Dr Josephine Christy.
Awareness talk was given by Dr Rajesh in Suryan FM.
A talk on Corneal transplantation and recent advances was given by Dr Josephine Christy to the residents and postgraduate students of Mahatma Gandhi Medical College, Pondicherry.
A national level quiz programme on eye donation was organised for the undergraduates in collaboration with  IMA-Medical Students' Network (MSN) of Pondicherry council. Dr Rashmita,Dr Kunal,Dr Rakesh and Dr Christy organised and conducted the quiz.  Apart from this, digital poster, video and poem writing competition were organised for the undergraduates via Facebook, Instagram and Twitter respectively.
As an innovative way of creating awareness on eye donation among the general public, a pledge corner and photo booth were created in the Providence Mall, Pondicherry, in association with Rotary Club. On the concluding day, a flash mob was performed by the students of IMA-MSN Pondicherry and lucky draw prizes were distributed for people who had pledged for eye donation.
As a way to reach more general public, awareness videos with messages from celebrities were prepared and circulated in social media.
During the entire fortnight period, the caller tune of the hospital phone were short messages on eye donation aimed to create awareness to people.
Postgraduate residents Dr Apurva, Dr Saloni and Dr Vinitha created a short video on eye donation awareness that was released during the final day of Eye Donation Fortnight observance.