Observing 35th National Eye Donation Fortnight at Madurai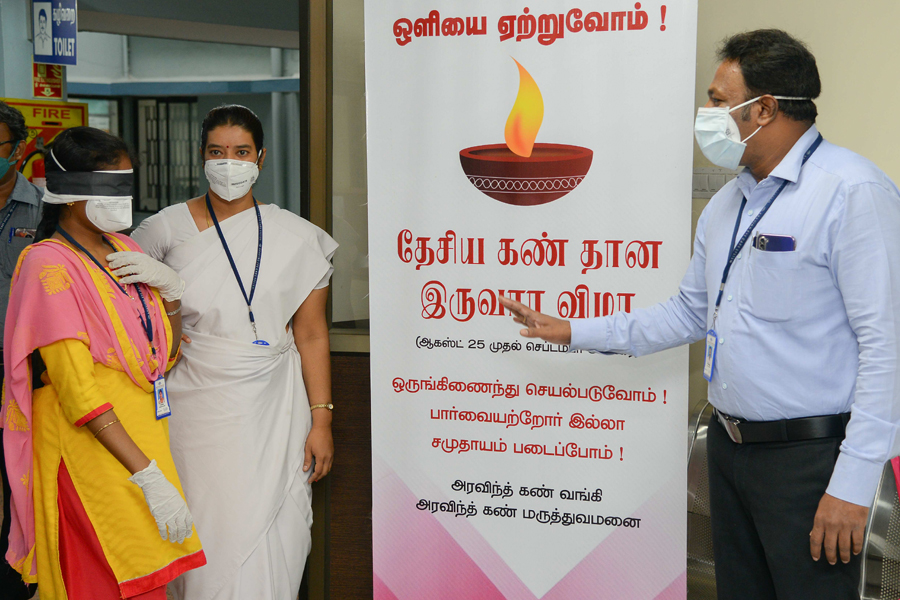 Rotary Aravind International Eye Bank (RAIEB) , Aravind Eye Hospital , Madurai observed National Eye Donation Fortnight with a wide variety of programmes intended to create awareness amongst the public. Most of the programmes were organised virtually given the COVID-19 restrictions. In special cases when the programme had to be conducted in-person, enough care was taken to ensure that social distancing and other safety measures were followed without fail.
Eye donation awareness posters were developed and displayed in the prominent areas inside the hospital. They were also shared through various social media platforms. Endorsements by senior ophthalmologists from government medical college hospitals on eye donation were shared through social media. Senior members from Lions Clubs shared interesting notes on their activities to support the cause of eye donation. Dr.M. Srinivasan participated as a panellist in the webinar on hospital cornea retrieval programme organised by NPCB. RAIEB organized a Treasure Hunting (Puthaiyal vettai )  competition with blindfolded eyes for the staff of Aravind-Madurai.  Mr. D.Saravanan, Manager spoke at the webinar organized by EBAI south Zone. He also participated as a Panellist in a webinar organised by DDEB, Bhubaneswar. Dr.Venkatesh Prajna delivered the chief guest's address at a programme organised by the IT wing of AIADMK to pledge eyes. He gave an interview in News J Channel about eye banking. A drawing competition was organised for the staff and the best three drawings were given prizes.