Truck Drivers Eye Screening Initiative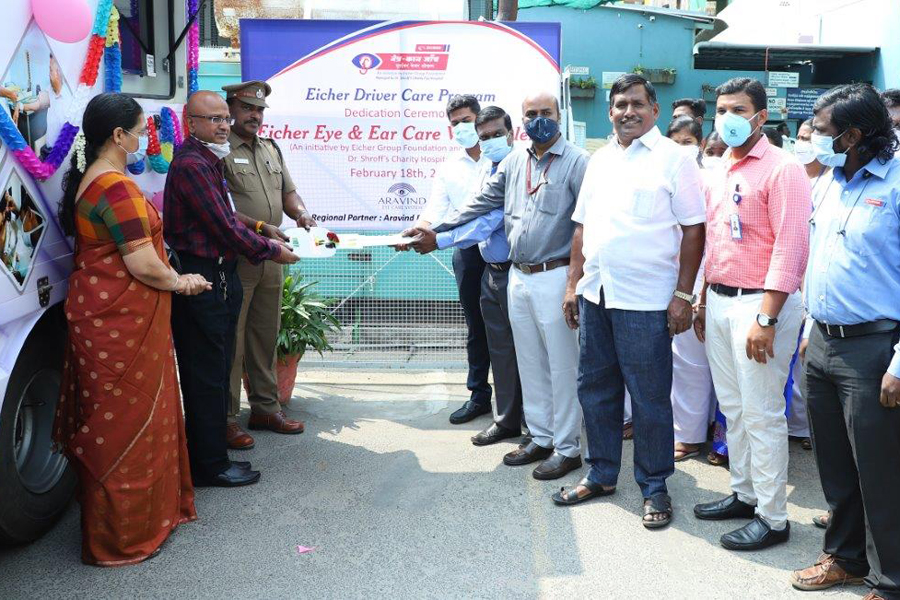 Shroff's Charity Eye Hospital, Delhi (SCEH) and Eicher Motors India has joined hands to initiate a project  to screen truck drivers for eye problems. With the help of a van sponsored by Eicher, eye camps will be conducted in transport hubs, petrol stations, service stations of Eicher, RTO offices, etc. The van is designed with all the necessary eye care equipment inside. Under this initiative, SCEH has tied up with 8 major eye hospital networks across the country. Till date, the programme has catered to 1,19,221 lives including 65,354 commercial vehicle drivers across various states including Delhi NCR, UP, Assam, West Bengal, etc.
Aravind Eye Hospital, Salem is identified to be one of the partners for this project in the south zone. The dedication ceremony of the van was conducted February 18. Dr. B. Manohar Babu, Chief Medical Officer, Aravind-Salem welcomed the audience to the ceremony. Chief guests were  Mr. G.Sathiyamurthi, Asst. Commissioner of Police – Traffic, Salem and Dr.S.Sozhamadevi, Head of the Department of Ophthalmology,Govt. Mohan Kumaramangalam Medical College Hospital, Salem; District Programme Manager, DBCS. Special guest, Mr. Karthikeyan, Joint Managing Director, JAWA group, Salem lit the lamp.  Mr. Shantanu Dasgupta, GM, SCEH highlighted the milestones and achievements of the Eicher Driver care programme. Mr. Gaurav Sharma, Managing Director shared a note on the vision of the programme. Mr. Karthikeyan and Mr. Radhakrishnan, Volvo Eicher Commercial Vehicles Ltd., Salem shared their thoughts on the importance of eye screening for truck drivers.