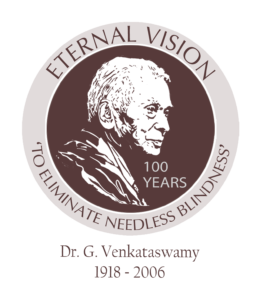 Dr. Govindappa Venkataswamy
G. Venkataswamy popularly known as 'Dr V.' was the founder and former chairman of Aravind Eye Hospitals. He was born on October 1, 1918 in Vadamalapuram, a village eighty kilometres from Madurai in Tamil Nadu, India.
He received his medical degree from Stanley Medical College, Chennai in 1944. Thereafter, he joined the Indian Army Medical Corps but had to retire in 1948 after developing rheumatoid arthritis. The condition became so severe that he was bedridden for over a year. For a time, he struggled even to walk and could not hold a pen in his badly crippled fingers. Despite his condition, he returned to medical school and earned his diploma and master's degree in Ophthalmology. Through his hard work and determination, Dr. V learned how to hold a scalpel and perform cataract surgery. Eventually, he was able to perform more than one hundred surgeries a day and over one hundred thousand successful eye surgeries during his lifetime.
While in the government service, Dr. V introduced a number of innovative programmes to deal with the problem of blindness in India. To name a few, outreach camps in eye care (1960), a rehabilitation centre for the blind (1966), and the creation of an ophthalmic assistants training programme in 1973. In recognition of his work in the fight against blindness, Dr, V received the Padmashree award in 1973 by the Government of India.
Upon his retirement from government service, Dr. V founded Aravind Eye Hospital as an 11-bed facility in 1976. He passed away on July 7, 2006.