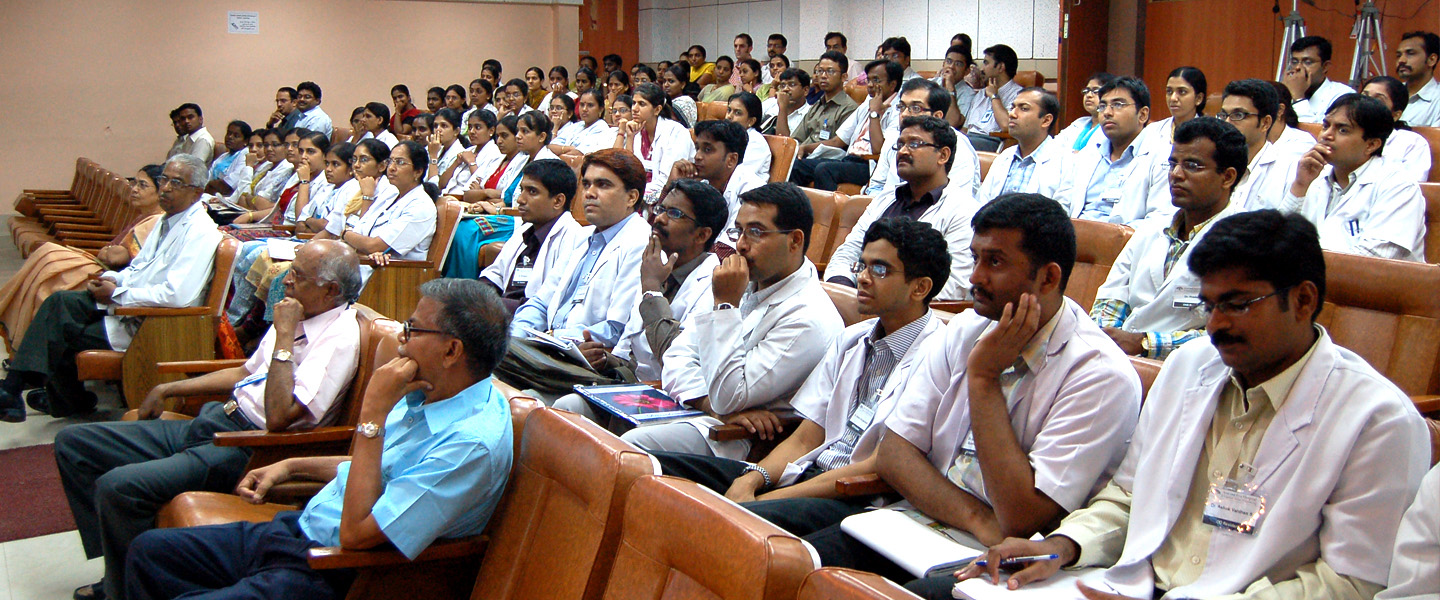 Wetlab & Classrooms
Surgical training is commenced in the wet lab using animal eyes with specific teaching microscopes for preliminary practice. The wet labs are equipped with the state-of-the-art simulators and have a significant collection of surgical videos.
All Aravind classrooms are well-equipped with advanced teaching technology and enable interaction with the faculty. The classrooms allow for flexible layouts, group discussions, case presentations and active interaction. Audience response systems enable participant feedback, opinion gathering and instant training evaluation.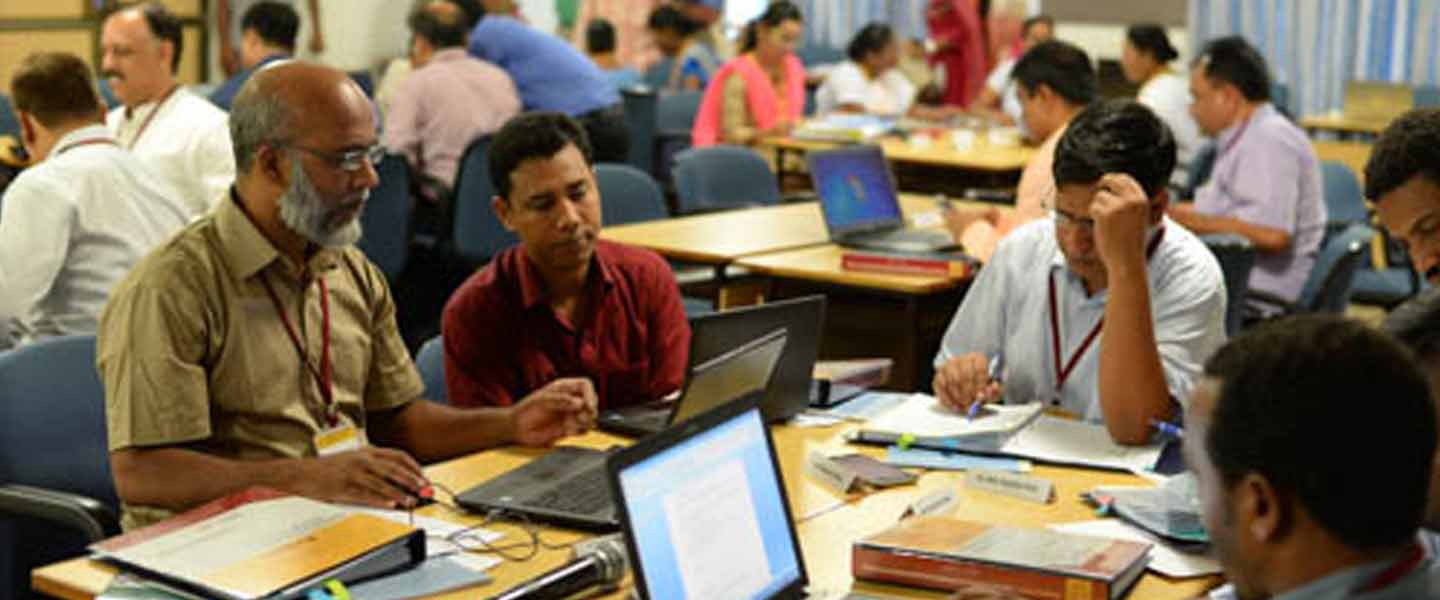 Online resources
Aurosiksha is an online portal that holds training resources for allied ophthalmic personnel.
Aravind is a significant contributor to Eyeguru, the online training website for ophthalmic residents
Subscribe to SiteNews: The newsletter produced by Aravind Resource Centre offers curated resources on a particular theme for each edition.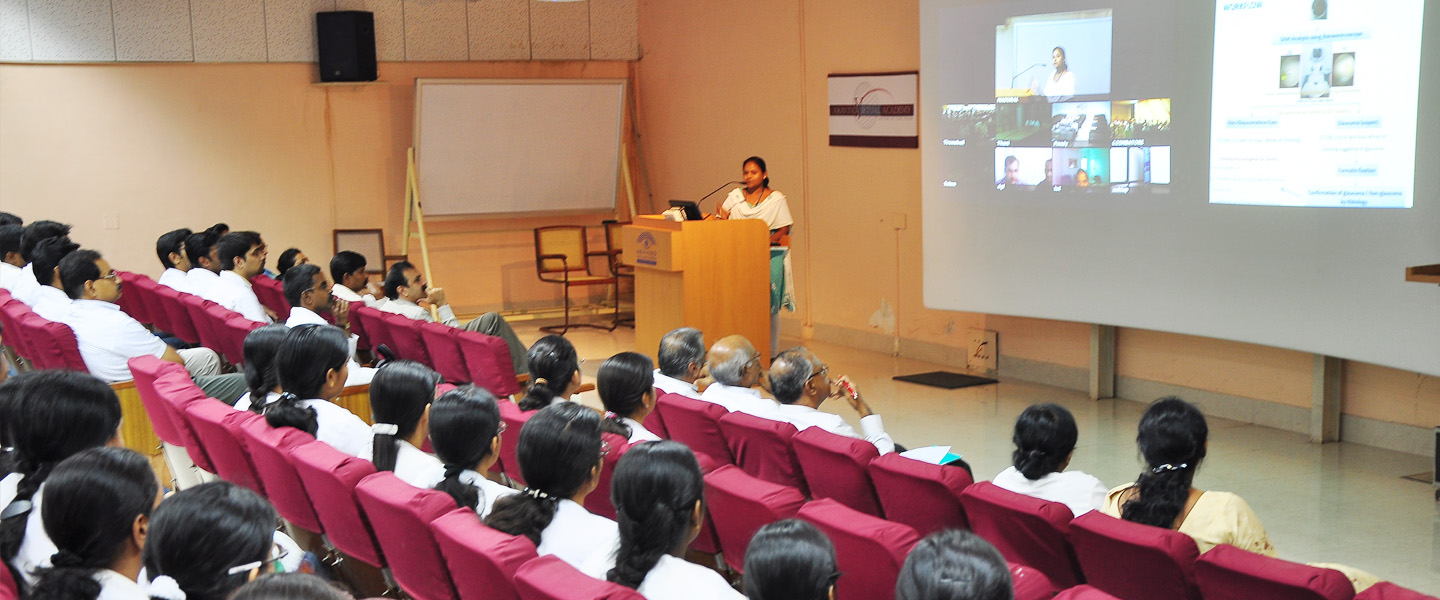 Grand Rounds
Every Thursday Aravind Grand Rounds features special cases, case series and besides expert guest lectures from around the world. Aravind Grand Rounds is on teleconference and connects to all Aravind Centres (and a few other eye hospitals).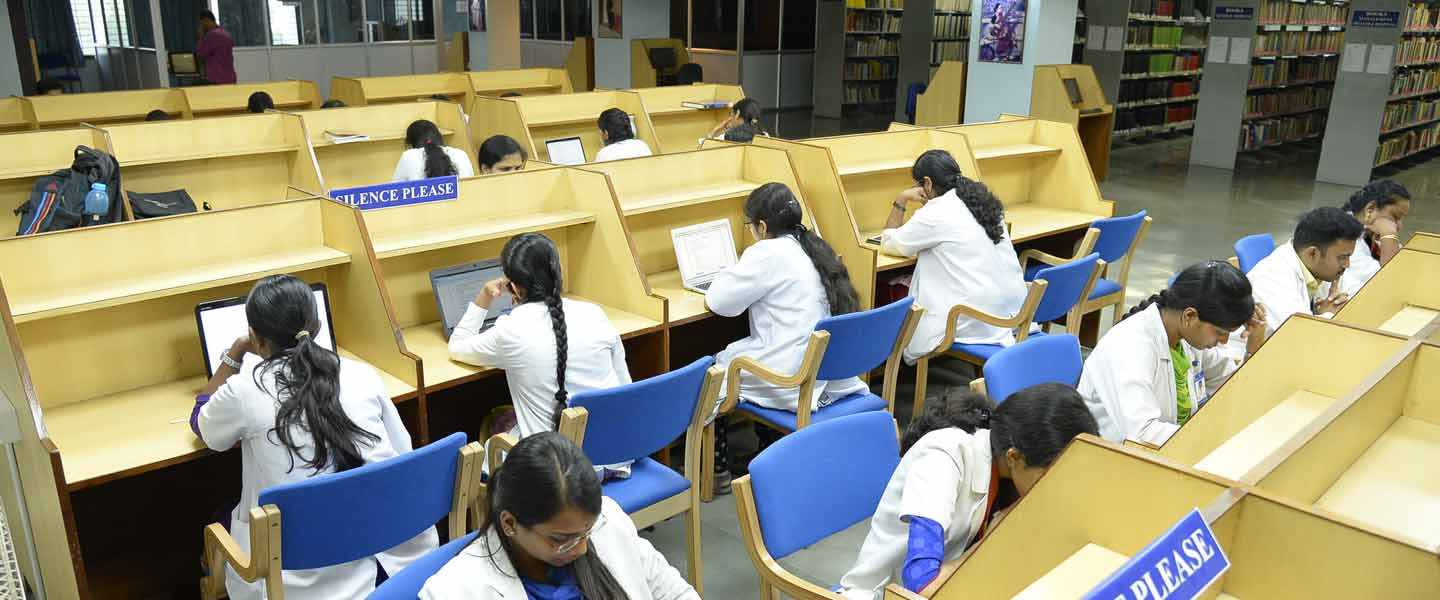 Library
All Aravind centres have well-equipped libraries. The libraries have a comprehensive collection of books and leading journals on all specialties of the eye as well as management and community ophthalmology. The institution also carries a large video library of various procedures as well as special lectures. Trainees may also use the library's computer stations that are equipped with high-speed internet. Besides this, the library offers excellent support for trainees and researchers to access relevant information through a web based platform, the Green Stone Digital Library. The library also offers support for publication such as reference formatting, online submission etc.  Aravind Library and Resource Centre is a member of the Association of Vision Science Librarians Group.  Aravind Library regularly conducted  Library CMLE, Workshop and Training programme for Eye care and Health Care Librarians.
While at Aravind
Aravind institutions strive to be patient-centric and the organization culture highlights a sense of discipline and compassion. Trainees at Aravind are required to follow a simple dress code.
Women: It is appropriate for women to wear long skirts or full pants and loose fitting tops. Sleeveless tops are not appropriate. Avoid tight leggings or jeans and skimpy tops to work. Those who are staying for longer periods are advised to buy Indian clothes such as the salwar kameez, as these will be more appropriate and comfortable.
Men: Men are expected to wear button-down shirts and loose trousers. Avoid wearing jeans, t-shirts or shorts to work.
Doctors: Doctors are expected to wear shoes to the clinics. Sandals or open shoes would be comfortable for other occasions.
We recommend that all trainees take a look at Vanakkam – a guidebook to South India and Aravind. As you prepare for your travel to India and to the Aravind destinations, 'Vanakkam' will provide you with detailed information on what to expect when you arrive. This includes travel arrangements, living conditions, local weather and local food, as well as information on sightseeing and restaurants in the cities where the Aravind facilities are located.
Each Aravind campus has a unique way to take time off once in a while to bring all employees and trainees from different cadres together – through competitions to showcase different talents, celebrating local festivals, cultural evenings, motivational lectures etc.
For International Trainee's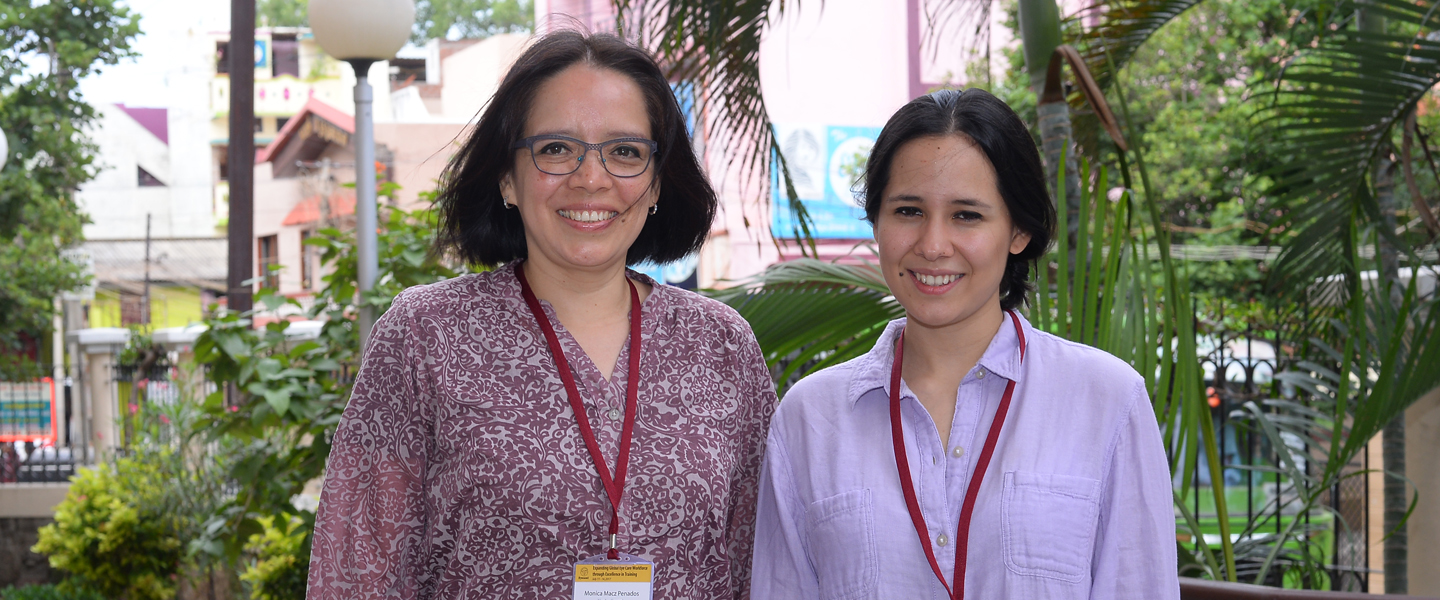 International Trainees
All foreign trainees are required to get a Visa to enter India. Please go through the https://indianvisaonline.gov.in/visa/index.html that will help you prepare for a hassle-free time here. Foreign trainees are required to register with the local police upon arrival.  Contact your course coordinator to assist you in this.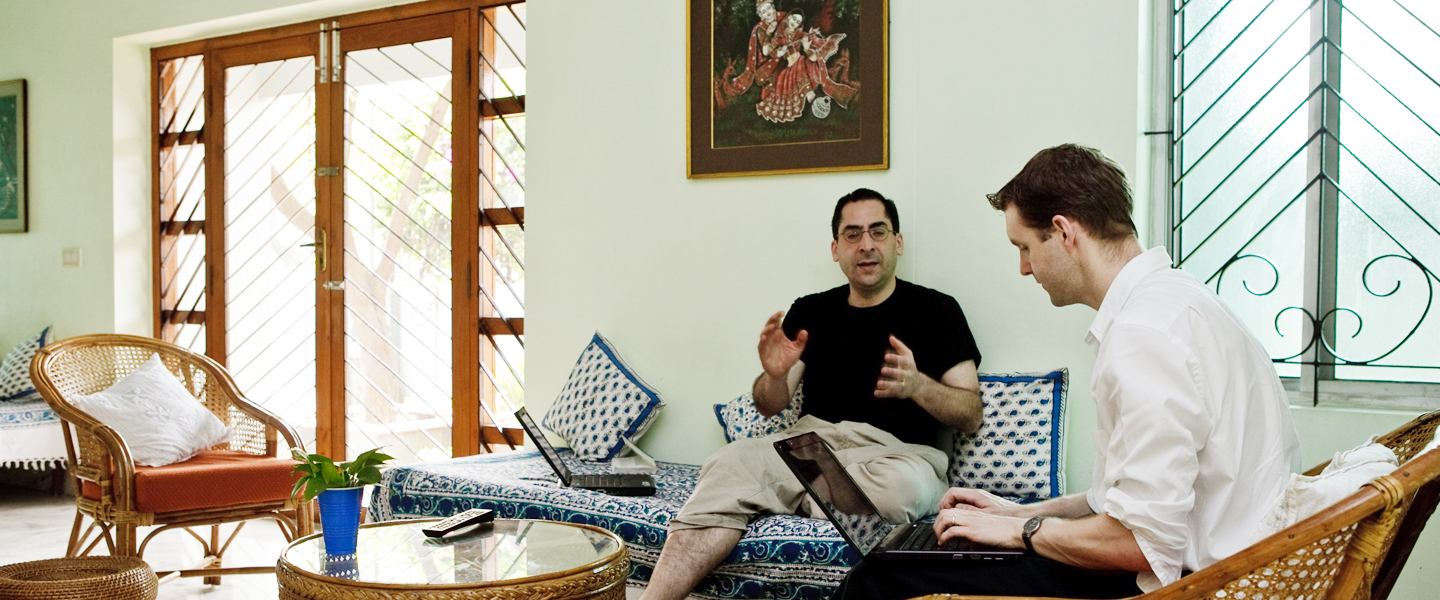 Trainee Accommodation
Accommodation facilities with catering services are available within the campus at all Aravind centres. Types of facilities differ with each centre. Please contact your training coordinator for more information. Quarters for postgraduate residents are available for trainees.  Short term trainees to Madurai can avail the stay at Inspiration– the international trainee hostel.