Community Outreach
Community Outreach is taking health care to that part of the community which has no access and awareness of such services.  In eye care, it is the practice of conducting eye camps involving local community as partners.
Dr. G. Venkataswamy (Dr. V), founder of the Aravind Eye Care System, had a strong awareness of the barriers to eye care experienced by people in the greatest need: poverty, fear, suspicion and lack of transport.  He started organising eye camps as early in 1960s when he was in the government service.  He played a major role in the development of outreach programmes in eye care. He started conducting eye camps by involving the local community as a partner in rural areas.  Dr.V strongly believed that involving community as partners creates more ownership for eye camps. Part of the expenses (publicity and local arrangements) is borne by the community partners.
Aravind, ever since inception, focused on community outreach programmes which take eye care service to the doorstep of the needy. Over the years, camps became an integral part of Aravind's eye care delivery contributing 30% to the total cataract surgeries performed. Through a vast network of community partners, every year, the organisation conducts over 2,500 free eye camps.
Types of Eye Camps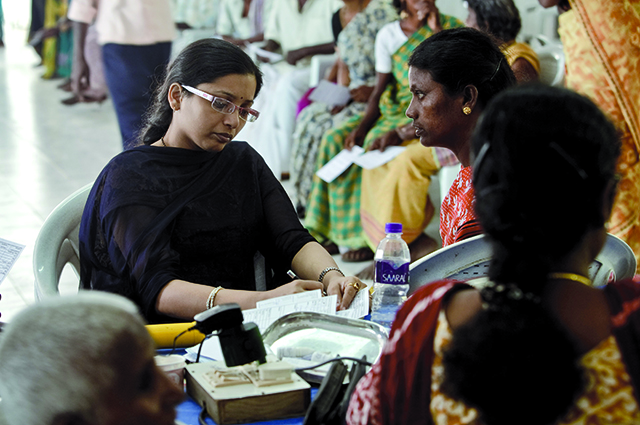 Comprehensive Eye Camps
Comprehensive camps are designed to screen for all kinds of common eye problems rather than cataracts alone. Minor eye ailments or refractive errors are treated at the camp site with medication or eyeglasses.  Patients identified with cataract are brought to the hospital for free surgery while those identified with speciality conditions are referred to the base hospital.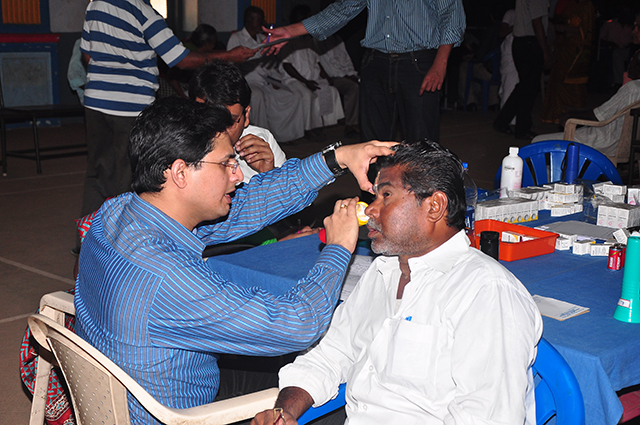 Diabetic Retinopathy Screening Camps
Diabetic retinopathy is damage to the small blood vessels in the retina (the thin light-sensitive membrane that covers the inside of the eye) caused by complications of diabetes (high blood glucose levels in people with poorly controlled diabetes). DR screening camps specialise exclusively in the diagnosis and treatment of this disease.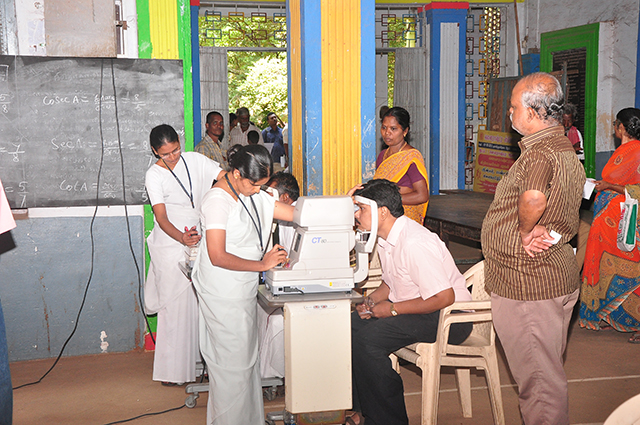 Workplace Eye Screening Camps
In an aging world, the magnitude of uncorrected presbyopia is high. Because this is a problem among working populations. Aravind organises refractive error screening camps for the sole purpose of screening and dispensing eyeglasses to large numbers of patients at one time. Industries and other fields of work are prime targets for this type of outreach camp.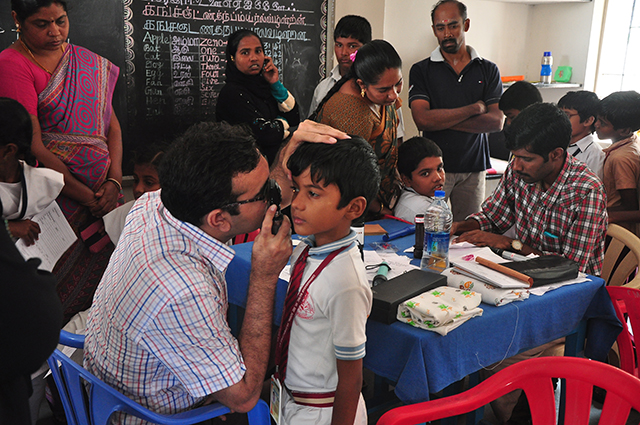 School Children Screening Camps
Globally, uncorrected refractive error is the main cause of vision impairment in children aged 6-15 years and the prevalence of myopia (short-sightedness) is increasing dramatically among children. These camps concentrate on screening of refractive errors. Students with other eye ailments are also noted and referred to the base hospital.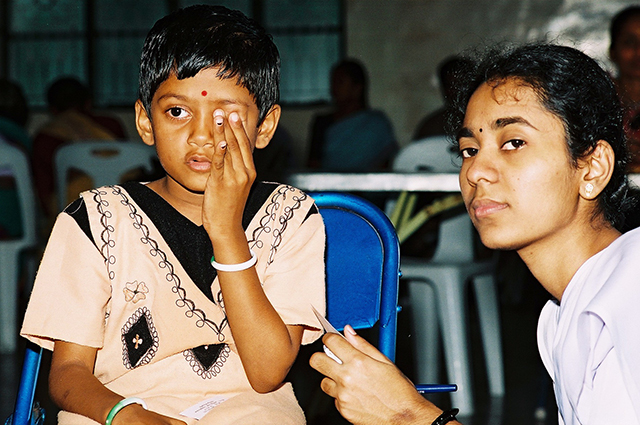 Paediatric Eye Screening Camps
These camps focus on prevention and treatment of eye problems in children aged 0 to 5 years (babies and pre-school children). Parents are educated about eye safety, prevention of eye diseases, childhood illnesses and nutritional deficiencies that can lead to blindness.
Planning for Outreach
A video about how to plan and conduct eye camp