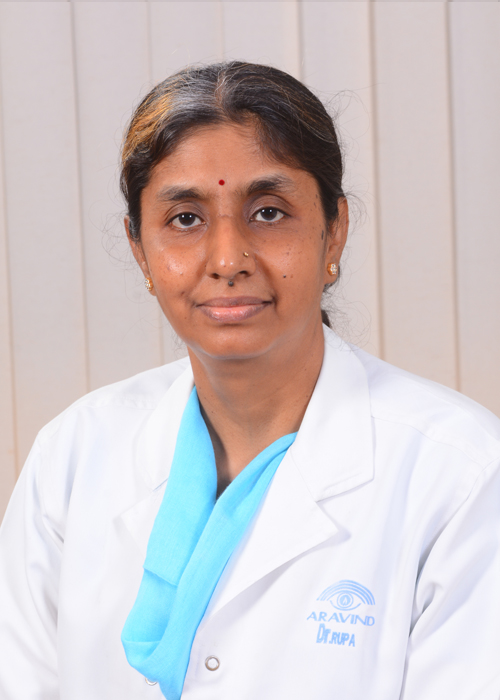 Qualification
DO
Designation
Medical Consultant, Paediatric Ophthalmology & Adult Strabismus Services
Location
Aravind Eye Hospital, Madurai
Dr. Rupa graduated in medicine from Mysore Medical College, DO from JIPMER, Pondicherry.
Peer-Reviewed Journals
Viswarubhiny S, Anjanamurthy R, Vanniarajan A, Bharanidharan D, Perumalsamy V, Sundaresan P. Clinical exome sequencing facilitates the understanding of genetic heterogeneity in Leber congenital amaurosis patients with variable phenotype in southern India. Eye Vis (Lond). 2021;8:20.
Raj RK, Dhoble P, Anjanamurthy R, Chermakani P, Kumaran M, Devarajan B, Sundaresan P. Genetic characterization of Stargardt clinical phenotype in South Indian patients using sanger and targeted sequencing. Eye Vis (Lond). 2020;7:3.
Kumar K, Mishra C, Anjanamurthy R, Kannan NB, Ramasamy K. Reversible blindness in a patient with closantel toxicity. Indian J Ophthalmol. 2019;67(10):1768-1771.
Non-Peer Reviewed Journals
Vidya R,Srilekha P, Rupa A,Sharmila R.A Case Report of Late Presentationof Asymptomatic Primary Congenital Glaucoma.J Ophthalmic Sci Res.2020;58:106-108.