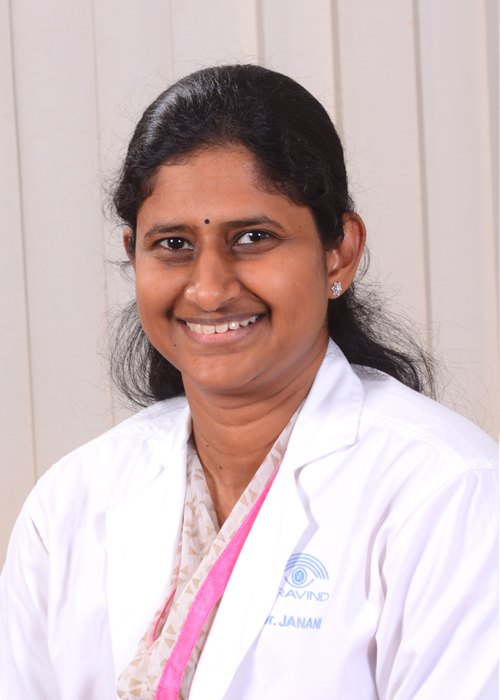 Qualification
MS
Designation
Medical Consultant, Paediatric Opthalmology & Adult Strabisums Services
Location
Aravind Eye Hospital, Madurai
Dr. Janani graduated in medicine from Rajah Muthaiya Medical College, Chidambaram, MS from Aravind Eye Hospital, Madurai.
Geary A, Wen Q, Adrianzén R, Congdon N, Janani R, Haddad D, Timbo CS, Khalifa YM. The impact of distance cataract surgical wet laboratory training on cataract surgical competency of ophthalmology residents. BMC Med Educ. 2021 Apr 19;21(1):219.
Sankarananthan R, Prasad RS, Dheera MS, Shekhar M, Sen S, Janani R. Retrospective analysis of visual outcomes in retropupillary iris-suture-fixated rigid intraocular lens inx a tertiary eye center in southern India. Int Ophthalmol. 2021 Mar;41(3):973-980.
Sankarananthan R, Aswin PR, Madhu Shekhar, Janani R,Siddharth N, Ravindran R D. Phacoemulsification versus Manual-Small Incision Cataract Surgery for Brunescent Cataracts: a retrospective analysis. J Ophthalmic Sci Res. 2020;58:74-77.