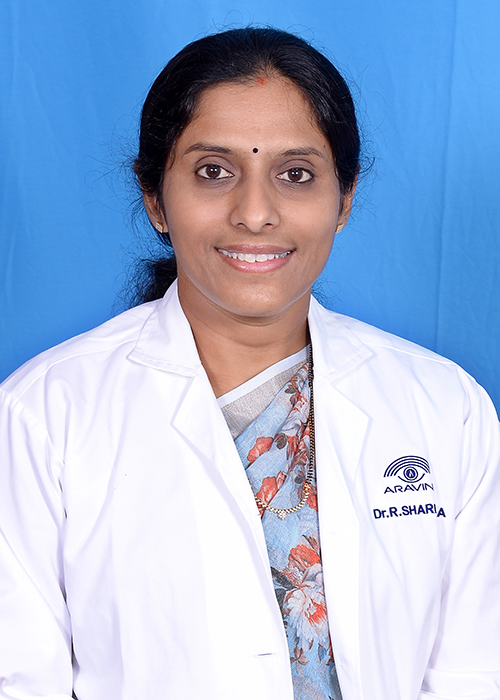 Qualification
DNB
Designation
Medical Consultant, Glaucoma Services
Location
Aravind Eye Hospital, Madurai
Dr. Sharmila graduated in medicine from Sri Ramachandra Medical College and Research Institute, Chennai in 1998 and later completed her Diplomate in National Board in ophthalmology in 2002 from Aravind Eye Care System.  She also completed her fellowship in Glaucoma in the year 2004 from the same institute.  She has been a attendant physician at the Glaucoma services since 2004, and is now a senior consultant actively managing complex Glaucoma patients. She is also the Member secretary of the Institutional Review Board at Aravind Eye Hospital, Madurai.
Dr. Sharmila has done a short observership in the Glaucoma services of major eye hospitals in the US like Wills Eye Hospital, Philadelphia, Wilmer Eye Institute, Baltimore,Duke University, Durham and also at Moorefields Eye Hospital, London U.K.  She has been actively involved in Patient Care, training Postgraduates, Fellows and Research activities.  She has various publications in National & International journals and has been an invited faculty at the Glaucoma Society of India, All India Ophthalmological Society and various state ophthalmological societies like Tamil Nadu, Andhra Pradesh, Karnataka, Maharashtra and Delhi. Her speciality of interests are in treating rare eye diseases like Nanophthalmos and managing paediatric and refractory glaucomas.
Dr Sharmila has been a part of several research activities in Glaucoma and Nanophthalmos.
List of publications in Peer-Reviewed Journals
Rajendrababu S, Shroff S, Uduman MS, Babu N. Clinical spectrum and treatment outcomes of patients with nanophthalmos. Eye 2020 May 28. [Epub]
Chang DF, Prajna NV, Szczotka-Flynn LB, Benetz BA, Lass JH, O'Brien RC, Menegay HJ, Gardner S, Shekar M, Rajendrababu S, Rhee DJ. Comparative Endothelial Toxicity of Differing IntracameralMoxifloxacin Doses Following Phacoemulsification. J Cataract Refract Surg. 2020 Mar;46(3):355-359.
Rajendrababu S, Shroff S, Patil SV, Uduman MS, Vardhan A, Krishnadas SR. Surgical outcomes of repeat trabeculectomy augmented with high dose mitomycin C. Indian J Ophthalmol. 2019;67(1):95‐100. doi:10.4103/ijo.IJO_682_18
Kavitha, S Ramulu, P Y; Venkatesh, R; Palaniswamy, K; Abdul Mohideen Kader, A; Ganesh, V Raman; Sharmila, R; Zebardast, N.Resolution of Visual Dysphotopsiasfollowing Laser Iridotomy: 6 month follow-up.Ophthalmology.2019;126:469-471.e1
Srinivasan K, Zebardast N, Krishnamurthy P, Abdul Kader M, Raman GV, Rajendrababu S, Venkatesh R, Ramulu PY. Comparison of New Visual Disturbances after Superior versus Nasal/Temporal Laser Peripheral Iridotomy: A Prospective Randomized Trial. Ophthalmology. 2018 Mar;125(3):345-351. doi: 10.1016/j.ophtha.2017.09.015. Epub 2017 Oct 31. PMID: 29096997.
RoopamDuvesh George, V Puthuran; Kavitha, S; Venkatesh, R; Krishnadas, R; Sharmila, R; Vijayakumar, B; Ramulu, Pradeep; Sundaresan, P.Multiplex CytokineAnalysis of Aqueous Humor from the Patients with Chronic Primary Angle ClosureGlaucoma.Curr Eye Res. 2017;42:1608-1613.
Varadaraj, V Sengupta, Sabyasachi; Palaniswamy, K; Kavitha, S; Mohideen Abdul Kader; Ganesh, V Raman; Sharmila, R; Ramulu, P Y; Venkatesh, R. Evaluation of Angle Closure as Risk Factor for Reduced Corneal Endothelial Cell Density.JGlaucoma.2017;26:566-570.
Rajendrababu S, Babu N, Sinha S, et al. A Randomized Controlled Trial Comparing Outcomes of Cataract Surgery in Nanophthalmos With and Without Prophylactic Sclerostomy. Am J Ophthalmol. 2017;183:125‐133. doi:10.1016/j.ajo.2017.09.008
Zebardast, N Kavitha, S; Palaniswamy, K; Sengupta, Sabyasachi; Mohideen Abdul Kader; Ganesh, V Raman; Sharmila, R; Ramulu, P Y; Venkatesh, R. Angle Closure Phenotypes in Siblings of Patients at Different Stages of Angle Closure. Ophthalmology. 2016;123:1622-1624.
Dubey, S K Hejtmancik, J F; Krishnadas, R; Sharmila, R; Haripriya, Aravind; Sundaresan, P.Evaluation of Genetic Polymorphisms in Clusterin and Tumor Necrosis Factor-Alpha Genes in South Indian Individuals with Pseudoexfoliation Syndrome.Curr Eye Res. 2015;40:1218-24
Sharmila R,Nidhi Gupta; Vijayakumar, B; Kumaragurupari, R; Krishnadas, R. Screening First Degree Relatives of Persons with Primary Open Angle Glaucomain India.J CurrGlauocma Practice.2014;8:107-112.
Dubey, S K Hejtmancik, J F; Krishnadas, R; Sharmila, R; Haripriya, Aravind; Sundaresan, P.Lysyl Oxidase-Like 1 Gene in the Reversal of Promoter Risk Allele in Pseudoexfoliation Syndrome.JAMA Ophthalmol.2014;132:949-955.
List of publications in Non Peer-Reviewed Journals
Vijayalakshmi AS, Sharmila R. Aftermath of topiramate: An interesting case report and literature review. TNOA J Ophthalmic Sci Res. 2019 Jul-Sep;57(3):240-242.
Sharmila, R.Role of Imaging in Glaucoma.TNOA.2015;52:615-623.
Sharmila, R ; Ankita Sengar.Management of Cataract in Nanophthalmic Eyes.TNOA.2011;49:98-99.
Krishnadas, R Abdul Wajith; Sharmila, R; Ramakrishnan, R.Congenital Glaucoma-Clinical Featurs and Management.TNOA.2006;44:15-24.
Best Paper award – All India Ophthalmology Meeting New Delhi -2003 (comparison of Tonopen vs Goldmann applanation tonometer )
Best Paper Award – Glaucoma society of India , Bangalore -2008 (Family screening in POAG )
Best paper award – International congress of glaucoma surgery, Singapore -2014 (comparing the outcomes of cataract surgery vs cataract with sclerostomy in eyes with Nanophthalmos)