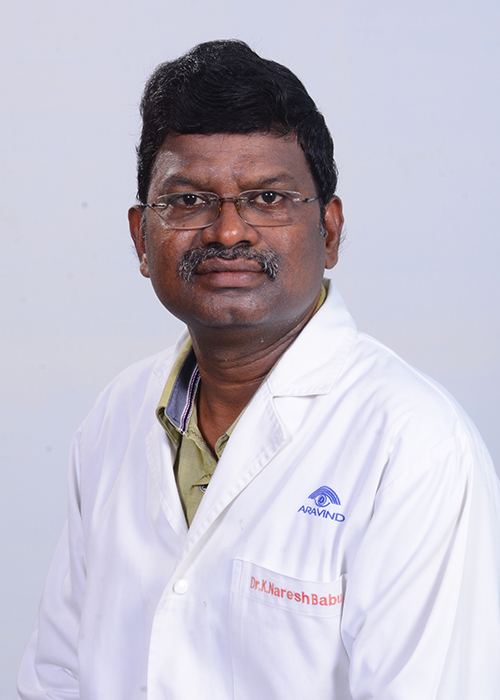 Qualification
MS
Designation
Chief, Retina Vitreous Services
Location
Aravind Eye Hospital, Madurai
Dr. Naresh graduated in medicine from Kilpauk Medical College and Hospital, MS from JIPMER, Pondicherry followed by Fellowship in Retina. In 2014, he did his MBA with specialization of Human Resource from Annamalai University.
Shukla D, Naresh KB, Kim R. Optical Coherence Tomography Findings in Valsalva Retinopathy. Am. J. Ophthalmol. 2005;140:134-136.
Shukla D, Naresh KB, Rajendran A, Kim R. Macular Hole Secondary to X-Linked Retinoschisis. Eye. 2006;20:1459-1461.
Shukla D, Rajendran A, Maheshwari R, Naresh KB. Early Closure of Macular Hole Seconary to Rhegmatogenous Retinal Rhegmatogenous Retinal Detachment with Internal Limiting Membrane Peeling. Ophthalmic Surg Lasers Imaging. 2008;39:81-85.
Babu N, Muraly P, Ramasamy K. Twenty-Three-Gauge Two-Port Pars Plana Lensectomy for the Management of Ectopia Lentis in Children. Retina. 2010;30:971-974.
Shukla D, Kalliath J, Neelakantan N, Naresh KB, Ramasamy K. A Comparison of Brilliant Blue G, Trypan Blue, and Indocyanine Green Dyes to Assist Internal Limiting Membrane Peeling during Macular Hole Surgery. Retina. 2011;31:2021-2025.
Shukla D, Kalliath J, Srinivasan K, Neelakantan N, Rajendran A, Naresh KB, Behera UC. Management of Rhegmatogenous Retinal Detachment with Coexisting Macular Hole: a comparison of vitrectomy with and without internal limiting membrane peeling. Retina. 2013;33:571-578.
Shukla D, Kalliath J, Patwardhan A, Kannan NB, Thayyil SB. A Preliminary Study of Heavy Brilliant Blue G for Internal Limiting Membrane Staining in Macular Hole Surgery. Indian J Ophthalmol. 2012;60:531-534.
Babu N, Shah PK, Narendran V, Kalpana N, Kim R. An Easy Method to Raise the 25-Gauge Trocar and Cannula System for Retinopathy of Prematurity-Related Lens-Sparing Vitrectomy. Retina. 2014;34:1014-1015.
Lalitha P, Das M, Purva PS, Karpagam R, Geetha M, Lakshmi Priya J, Naresh Babu K. Postoperative Endophthalmitis Due to Burkholderiacepacia Complex from Contaminated Anaesthetic Eye Drops. Br J Ophthalmol. 2014;98:1498-1502.
Kannan NB, Adenuga OO, Rajan RP, Ramasamy K. Management of Ocular Siderosis: visual outcome and electroretinographic changes. J Ophthalmol. 2016;7272465.
Kannan NB, Adenuga OO, Kumar K, Ramasamy K. Outcome of 2 cc Pure Sulfur Hexafluoride Gas Tamponade for Macular Hole Surgery. BMC Ophthalmol. 2016;16:73.
Sharmila R, Naresh, Kannan B, Sapna, Sinha, Vijayakumar, B, Ashok Vardhan, S,George, V Puthuran, Ramulu, Pradeep Y. A Randomized Controlled Trial Comparing Outcomes of Cataract Surgery in Nanophthalmos with and without Prophylactic Sclerostomy. Am. J. Ophthalmol. 2017;183:125-133.
Chitaranjan Mishra, Lalitha, Prajna, Rameshkumar, G, Agrawal, R, Balne, P K, Iswarya, M, Naresh, Kannan B, Kim, R. Incidence of Endophthalmitis after Intravitreal Injections: risk factors, microbiology profile, and clinical outcomes. Ocul Immunol Inflamm. 2018:1-10.