Aravind Eye Hospital, Kovilpatti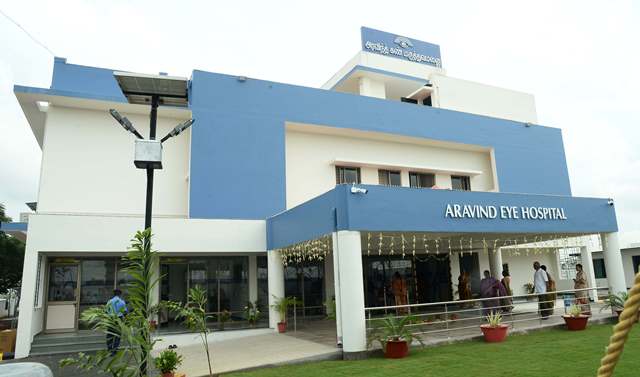 Aravind's 7th secondary hospital was inaugurated at Kovilpatti on September 2019.  17,300 Sq.ft hospital facility has the capacity to handle nearly 4000 outpatients and perform about 6,000 eye surgeries a year. The centre offers services in the treatment of cataract, refractive errors and a few speciality conditions. Services will be expanded further to include a wide array of speciality eye diseases.
In the year ending March 2022, Aravind-Kovilpatti handled over 39,250 outpatient visits and performed over 3,406 surgeries.
Aravind Eye Hospital - Kovilpatti
7:30 am to 5:00 pm : All days except Sunday
4/897, Puthu Appaneri, Thiruvengadam Main Road, G V N College Post, Kovilpatti, Tamil Nadu, India
Emergency care is available 24 hours a day, 7 days a week.
Doctors, Aravind-Kovilpatti
Medical Consultants
Dr. Tanya Nithin Balakrishnan, MBBS, MS
Speciality Clinics, Aravind-Kovilpatti
Alanganallur Vision Centre
Name : Alanganallur
Address : Near Primary Government Health Centre, Alanganallur - 625 501, Madurai District
Phone : 04574 264440
Sholavanthan Vision Centre
Name : Sholavanthan
Address : Double Aggarakaram, Sollavandhan - 625214, Madurai District
Phone : 04543 - 258567
Usilampatti Vision Centre
Name : Usilampatti
Address : Pariyur Road, Opposite Government Hospital, Near Dr. Ravindran Hospital, Usilampatti - 625532, Madurai District
Phone : 04552 253989
T. Kallupatti Vision Centre
Name : Kallupatti
Address : 26-2C, Opp. to Union Office, T. Kallupatti, Madurai District
Phone : 04549272260
Elumalai Vision Centre
Name : Elumalai
Address : South Car Street, Near Pettai Bhadrakaliamman Koil Street, Main Bazaar, Elumalai - 625535, Peraiyur (T.K), Madurai District
Phone : 9385753274
Vadipatti Vision Centre
Name : Vadipatti
Address : 17-1-492, Madurai Dindugal Main Road, Ramanayakkanpatti, Near UCO Bank, Vadipatti - 625218, Madurai District
Phone : 9498840013
Gandhigram Vision Centre
Name : Gandhigram
Address : Kasthuribai Hospital Compound, Chinnalapatti Perivu, Gandhigramam - 624302, Dindigul District
Phone : 0451 2451155
Natham Vision Centre
Name : Natham
Address : Mallai Magal Illam, Meenakshi Puram, Natham 624401, Dindigul District
Phone : 04544245345
Vedasandur Aravind Eye Hospital
Name : Vedasandur
Address : No,10 AMJ Complex, Periya Pallivasal Street, Vedasandur, Dindigul District
Phone : 04551 261500
Vadamadurai Vision Centre
Name : Vadamadurai
Address : R.S. Road, Near Canara Bank, Vadamadurai - 624 802, Dindigul District
Phone : 04551 238800
Oddanchathiram Vision Centre
Name : Oddanchathiram
Address : 40C 1/3, Treasury Colony, Dindigul Main Road, Oddanchatram - 624619, Dindigul District
Phone : 04553-241220
Kannivadi Vision Centre
Name : Kannivadi
Address : R.T Complex, Near Government Boys School, Palani Main Road, Kannivadi - 624004, Dindigul District
Phone : 9498840039
Sanarpatti Vision Centre
Name : Sanarpatti
Address : 113, Main Road, Opp. Pallivasal, Sanarpatti - 624304, Dindigul District
Phone : 9498840041
Tirupuvanam Vision Centre
Name : Tirupuvanam
Address : 4/1, Banglow Street, Opp. to Police Station, Ramanathapuram Main Road, Thirupuvanam - 630611, Sivagangai Disttict
Phone : 04574 264440
Manamadurai Vision Centre, Madurai
Name : Manamadurai
Address : 33, Dr. Chandrasekaran Complex, East Car Street, Near Anandhavalli Kovil, Manamadurai - 630606, Manamadurai Thaluk, Sivagangai District
Phone : 04574 269357
Singampunari Vision Centre, Madurai
Name : Singampunari
Address : R.R.T. Complex, Dindigul Main Road, Singamanueri - 630502, Thirupathur Taluk, Sivagangai District
Phone : 04577 242577
Kalayarkoil Vision Centre
Name : Kalayarkoil
Address : No 3914, Alar Street, Oppsite Narayana Moorthy Hospital, Kalayarkoil - 630551, Sivagangai District
Phone : 04575 - 232300
Devakottai Vision Centre
Name : Devakottai
Address : No. 2, Bharathidasan Street, Near Thirumurugan Electricals, Devakottai - 630302, Sivangai District
Phone : 04561 262200
Ilayankudi Vision Centre
Name : Ilayankudi
Address : Dr. Joharath Nisa Hospital, Faaiyath Clinic, 29, Kuttiyappan Chettiyar Street, Ilayankudi - 630702, Sivagangai District
Phone : 04564-265300
Rameshwaram Vision Centre
Name : Rameshwaram
Address : West Street , Kosami Madam, Rameshwaram -623526, Ramanathapuram District
Phone : 04573 222255
RS Mangalam Vision Centre
Name : Rajasingamangalam
Address : 24/2, Paramakkudi Road, Opp. to State Bank of India, R.S.Mangalam - 623 525, Ramanathapuram District
Phone : 04561-241241
Kamuthi Vision Centre
Name : Kamuthi
Address : Opp. to Government Hospital, Arupukottai Road, Kamuthi - 623603, Ramanathapuram District
Phone : 04576 224225
Mudukulathur Vision Centre
Name : Mudukulathur
Address : 14/16, Swamigal Madam Street, Behind TELC School, Near Government Hospital, Mudukulathur - 623 704, Ramanathapuram District
Phone : 04576-221221
Rayavaram Vision Centre
Name : Rayavaram
Address : Chithamparam Chettiyar Vallikkannu Aatchi Illam, 66/1, Chokkalingapuram 1st Street, Near Polytechnic Hostal, Rayavaram - 622 506, Pudukkottai District
Phone : 04333-272400
Thuvarankurichi Vision Centre
Name : Thuvarankurichi
Address : No. 63/5, N.G Complex, Rice Mill Street, Near IOB Bank, Thuvarankurichi - 621314, Trichy District
Phone : 9498840021
Sattur Vision Centre
Name : Sattur
Address : No:33, Sivan Kovil South Car Street, Sattur - 626203, Virudhunagar District
Phone : 04562 264481
Kariyapatti Vision Centre
Name : Kariyapatti
Address : Pandiyan Nagar 4th Street, 6th Ward, Madurai Arupukottai Main Road, Kariyapatti - 626106, Virudhunagar District
Phone : 04566254254
Srivilliputtur Vision Centre
Name : Srivilliputtur
Address : No:1, Pajanaikooda Street, Srivilliputhur - 626125, Virudhunagar District
Phone : 04563 261100
Thiruchuli Vision Centre
Name : Thiruchuli
Address : AMV Complex, Opp. to Thankaraj Mill, Narikudi Main Road, Thiruchuli - 626129, Virudhunagar District
Phone : 04566-282111
Panthalkudi Vision Centre
Name : Panthalkudi
Address : 176/1, Suranayakan Patti, Near Governtment Higher Secondary School, Panthalkudi - 626113, Virudhunagar District
Phone : 04566-261166
Watrap Vision Centre
Name : Watrap
Address : No. 60, Agraharam Center Street, Opp. to Kumaraguru Hospital, Watrap - 626 132, Virudhunagar District
Phone : 89037 47927